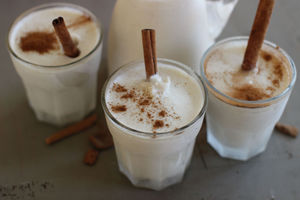 This is my favorite egg nog. When I lived in Puerto Rico my friend's mom made it for Christmas and Three Kings.
Puerto Rican Egg Nog (Coquito)!
It takes less than 10 minutes.
Here are the ingredients:
13½-ounce can coconut milk
14-ounce can sweetened condensed milk
12-ounce can of evaporated milk
1 teaspoon vanilla extract
1½ cups crystal or light rum
¼ teaspoon ground cinnamon
In a large blender, combine all ingredients. Blend well, then refrigerate in the blender for a few hours (and up to 1 week). Just before serving, blend again to mix. Garnish with an additional sprinkle of cinnamon or nutmeg.
Carol A. Lawson, Esq., 28870 U.S. Hwy 19 #300, Hodusa Towers, Clearwater, FL 33761
Phone: (727) 410-2705;   email: calh@gate.net
 Clearwater Bankruptcy Attorney, Clearwater Bankruptcy Lawyer, Clearwater Bankruptcy, Clearwater Estate Planning Attorney,  Pinellas Estate Planning Attorney, Pinellas Probate Attorney #FileLocallyDontOverpay #ClearwaterBankruptcy #ClearwaterBankruptcyAttorney #ClearwaterEstatePlanning #ClearwaterProbate
https://carollawsonpa.com/wp-content/uploads/2015/12/9c75599c-35ad-4234-8da7-7bbb5952a983.jpg
200
300
damg
https://carollawsonpa.com/wp-content/uploads/2020/01/logo-carollawsonpa.png
damg
2015-12-17 10:38:47
2020-04-20 04:20:13
Coquito